Department holds first in-person Research Day in four years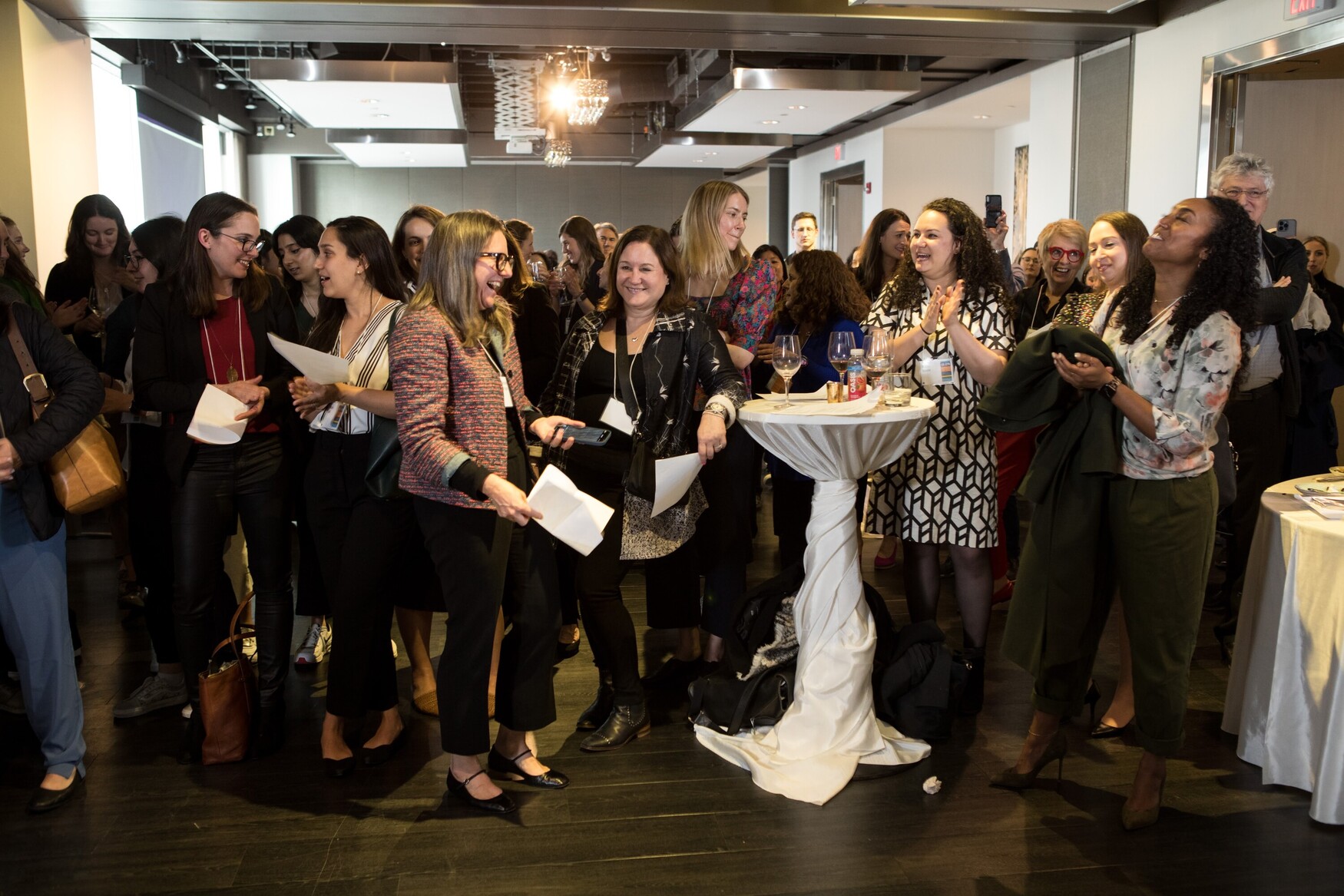 On Friday, May 5, our Department gathered at Arcadian Court to hold our annual Research Day. This year's event brought together 241 members of our Department, and our trainees delivered 12 oral presentations and 86 poster presentations touching on a broad range of topics within obstetrics and gynaecology.
We began the day with a well-received keynote from this year's Henderson Lecturer, Dr. Denise Jamieson of Emory University. We also introduced a new element to the day, a showcase of video abstracts demonstrating surgical techniques or interesting cases.
This was our first in-person Research Day since 2019, and it was truly heartwarming to come together once again to celebrate the broad range of important research generated by trainees at all levels.
Please scroll down for three sets of photos from the day, and join us in congratulating our award winners!
Research Day 2023 Award Winners
J.W. Knox Ritchie Research Awards: Best Poster Presentations
Undergraduate Medical Student
CLAIRE MAZZIA
Contraception used by people assigned female at birth with spinal cord injury
 
Resident
MARTHA SMITH
Evaluation of a Virtual "No Touch" Abortion Program Implemented in the Greater Toronto Area During the COVID-19 Pandemic

Clinical Fellow
YADA KUNPALIN
Simple prenatal imaging predictors for postnatal cerebrospinal fluid diversion surgery in fetuses undergoing in-utero surgery for spina bifida
 
Graduate Student
MAX LIBRACH
IL1α Induces Intracellular Progesterone Withdrawal and Myocyte Activation
J.W. Knox Ritchie Research Awards: Best Oral Presentations
Undergraduate Medical Student
PRANIYA ELANGAINESAN
"Check Your Vulva" — A Patient Education and Virtual Vulva Care Pilot Project
  
Resident (tie)
NOUR BAKHACHE
Exploring the Impact of Preoperative Anemia on Postoperative Costs and Complications 

Resident (tie)
ZACH FERRARO
Intracytoplasmic sperm injection in non-male factor infertility may have unintended consequences on maternal-fetal outcomes when compared to conventional in vitro fertilization 

Clinical Fellow
HUMARA EDELL
LASER Treatment for Stress Urinary Incontinence — a randomized controlled trial
 
Graduate Student
JOSEPH PARK
The Effects of Ephedrine, Phenylephrine, and Norepinephrine on Myometrial Contractility
 
Postdoctoral Fellow
CYNTIA DUVAL
In-vitro exposure of human GV oocytes to cannabis alters chromosomal organization and segregation — a single cell next generation sequencing study
People's Choice Award
ANASTASIA SMOLINA, Graduate Student
Developmental trajectories associated with stillbirth in a mouse model of fetal growth restriction
Best Video Abstract
MEGHAN MCGRATTAN