Meet our new Research Day Chair, Dr. Sascha Drewlo
Dr. Drewlo is taking over the annual event a year after joining the Department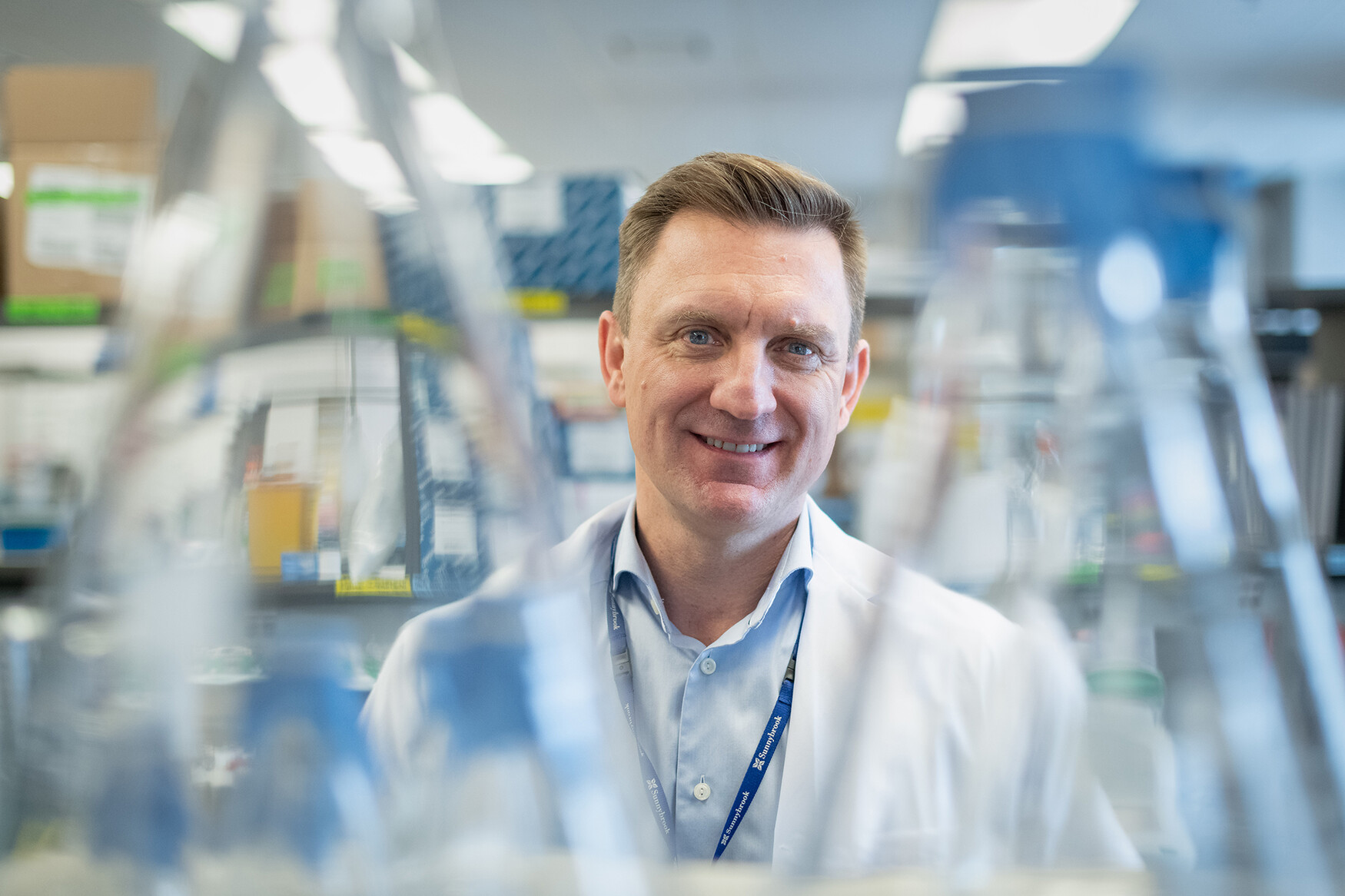 Kevin Van Paassen/Sunnybrook Health Sciences Centre
The first time Dr. Sascha Drewlo took a trip to Toronto, he felt it might be his last.
It was back in 2005 when Drewlo — working then as a PhD student in Germany in the laboratory of Dr. Peter Kaufmann — first met a visitor to the laboratory named Dr. John Kingdom. Though Drewlo claims he hardly spoke English at the time, it was a mutually memorable meeting. When Kingdom later invited Drewlo to come to Toronto to spend a few months working in his lab, Drewlo — eager to learn techniques relating to in situ hybridization — was quick to take him up on the offer.
And although the scientific collaboration between the two proved to be everything Drewlo had anticipated, he was not exactly enamoured with life outside the laboratory.
"I remember I got this really bad apartment downtown — I found a mouse in the couch at one point — and the city was just so cold," Drewlo recalls with a laugh.
"I come from a relatively small town in Germany, so I was a little bit overwhelmed with the big city — and the weather, I was just not prepared for it.
"At first, I said: 'There's no way I'll come back. No way.' But I did love the science. It was an amazing research year."
With time, the scientific collaboration left a more enduring impression on Drewlo than the frigid weather. So, when Kingdom called a year later, armed with a CIHR grant and offering Drewlo a postdoctoral position, it was a relatively easy decision. Drewlo sold everything, packed his bags, and — despite that frosty first impression — moved to Canada.
As it turns out, the city would prove to have a persuasive pull over Drewlo after all.
He would go on to work with Kingdom as a postdoctoral fellow in molecular placental development and pathology at the Lunenfeld Tanenbaum Research Institute at Mount Sinai Hospital from 2007 through 2012.
Drewlo then left for the United States, staying there for nearly a decade, working first at Wayne State University in Detroit and then at Michigan State University, where he grew his reputation as a leader in his field after pioneering and patenting several techniques related to the isolation and purification of placenta-derived trophoblast cells within the cervix in early pregnancy. The risk-free collection of these cells (via a simple Pap smear) could enable a wide range of genetic diagnoses at a much earlier stage of pregnancy, with major implications for prenatal diagnosis.
After more than nine years away, Drewlo made the decision to leave a tenured position to come back to Canada, and in July 2022 he received a dual appointment: as a full professor in the Department of Obstetrics and Gynaecology at the University of Toronto, and as a senior scientist in biological sciences and the DAN Women and Babies Program at Sunnybrook Research Institute and Sunnybrook Health Sciences Centre.
Ultimately, Drewlo says he was lured back by the same thing that brought him to Toronto in the first place: the opportunity to do ground-breaking research. But as a senior scientist and professor, his efforts will now have a much more significant impact on the research landscape in our Department.
"When it comes to science, I truly believe you can do anything here," Drewlo says. "I felt that way when I first visited, and I feel that is still true today — but now it's a different playing field.
"Now, I can make structural changes that might have a bigger impact. I can motivate my team and help others to give back. That's something I appreciate about John — being inspiring, being a good mentor, and motivating others — and it's an example I'm trying to follow as well. Let's see what's achievable when we all work together."
To that end, Drewlo hasn't hesitated to dive headfirst into leadership roles here. Last month, it was announced that Drewlo had been appointed as the Waks Family Chair in Maternal-Fetal Medicine Research, jointly shared by Sunnybrook Health Sciences Centre and the University.
In addition, he has agreed to take on the role of Chair of the University Department's annual Research Day event, where more than 100 of our trainees showcase their research with oral and poster presentations. Over the past number of years, Research Day has evolved into an ever more impressive event under the leadership of Dr. Ted Brown. Brown is working closely with Drewlo this year to ensure as smooth a transition as possible.
Although Drewlo certainly had a full plate already — "I never have free time, I'm always over-ambitious," he says with a laugh — he decided to tackle the Research Day position after admiring the event from afar in recent years.
"I love Research Day," he says. "It feels like a mini high-end conference. It's hustling, buzzing, busy. It's really invigorating. It shows real life on campus and what people are doing.
"It reflects the culture of the Department a lot. There's a focus on research here and a lot of support for that. That's the reason I came here initially, and that's the reason I came back."
It's also worth noting that Drewlo's feelings on Toronto have warmed considerably: "I love it here," he says now. "It's become home for me."
Another motivating factor has been Drewlo's relationship with Kingdom, our Department Chair. More than 15 years after their chance meeting in a lab in Germany, they are now colleagues and friends.
"Our professional relationship has also developed into a close friendship, with a shared focus on discussing ideas on how to improve pregnancy outcomes," Drewlo says. I'm a little bit older now and I'm on my own path. John has been a mentor, a friend, and my biggest supporter. Without his support, I wouldn't be here.
"Looking back, coming to Toronto to work in John's laboratory all those years ago was the best decision of my life, because I'm here now — and I'm very, very grateful."