Trainees Impress Faculty and Guests at Annual Research Day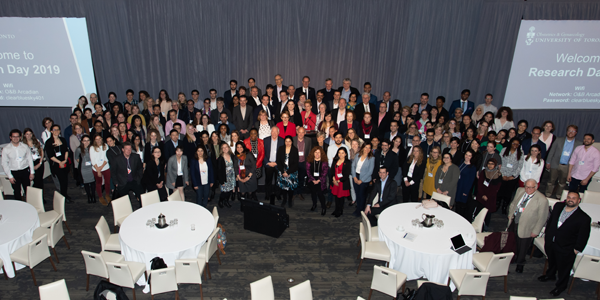 Written by: Dr. Ted Brown, Professor and Chair of the Research Committee
The Department of Obstetrics and Gynaecology 36th Annual Research Day was held on Friday, May 3, 2019 at the Arcadian Court, located in the Simpson Tower. This event celebrates and showcases the depth and diversity of research conducted by trainees within our department. A total of 110 abstracts were submitted; 12 were selected for presentation during two oral sessions, and 91 were presented during two poster sessions to an audience of close to 300 attendees.
A key event incorporated into Research Day is the D. Nelson Henderson Lecture, first established in 1965. This year's speaker was Dr. John O.L. DeLancey, M.D., the Norman F. Millar Professor of Gynecology at the University of Michigan Medical School, who delivered a scintillating lecture and discussion on Birth, Prolapse, and Pelvic Floor Injury. Dr. DeLancey is the world's leading authority on the management of pelvic floor injury and his presentation highlighted the magnitude of both prevalence and cost, in terms of human suffering and financial burden, of uterine prolapse in North America. His lecture summarized the evidence for the underlying cause of uterine prolapse, providing impactful insight for both prevention and management for this common pelvic floor disorder.
The day ended with a celebratory wine and cheese reception where the day's JW Knox Ritchie Research Award winners were announced.
Congratulations to our award winners!
Oral Presentations
Graduate Student: Farwah Iqbal, A Novel Combination Therapy Using First Trimester Perivascular Cells and Endothelial Progenitor Cells Significantly Improves Cardiac Recovery
Resident: Maria Cusimano, Impact of Surgical Approach on Oncologic Outcomes in Women Undergoing Radical Hysterectomy for Cervical Cancer
Clinical Fellow: Mitchell Clark, Resuming chemotherapy after interval cytoreductive surgery in ovarian cancer: The impact of time and temperature
Post-Doc Fellow: Tiantian Li, Minimally-invasive Transcriptomic Profiling of the Endometrium to Identify Markers of Endometrial Receptivity
Poster Presentations
Graduate Student: Tina Tu-Thu Ngoc Nguyen, Optimization and Evaluation of Autologous Human Platelet Lysate Isolation as a Novel Treatment for Recurrent Implantation Failure and Thin Endometrium
Resident: Humara Edell, Time is Ovary: Delays to Surgery in Emergency Room Cases of Adnexal Torsion
Resident: Evan Tannenbaum, Exploring implicit theories of intelligence through recommendations for resident remediation
Undergraduate/Medical Student: Aashi Aggarwal, Using High-Resolution Profiling of the Human Embryonic Mitochondrial Genome to Discover Biomarker(s) for Implantation and Embryonic Development
Clinical Fellow: Alysha Nensi, Utilizing Lean Methodology to Optimize Operating Room Efficiency: A Multidisciplinary Process-Mapping Exercise
_____________________________________________________________
Don't want to miss a post? Follow us on social media for more news!
FACEBOOK | INSTAGRAM | TWITTER
If you would like to be a guest blogger, please contact us at obgyn@utoronto.ca.