Faculty Professional Development Day Puts Spotlight on CBD Education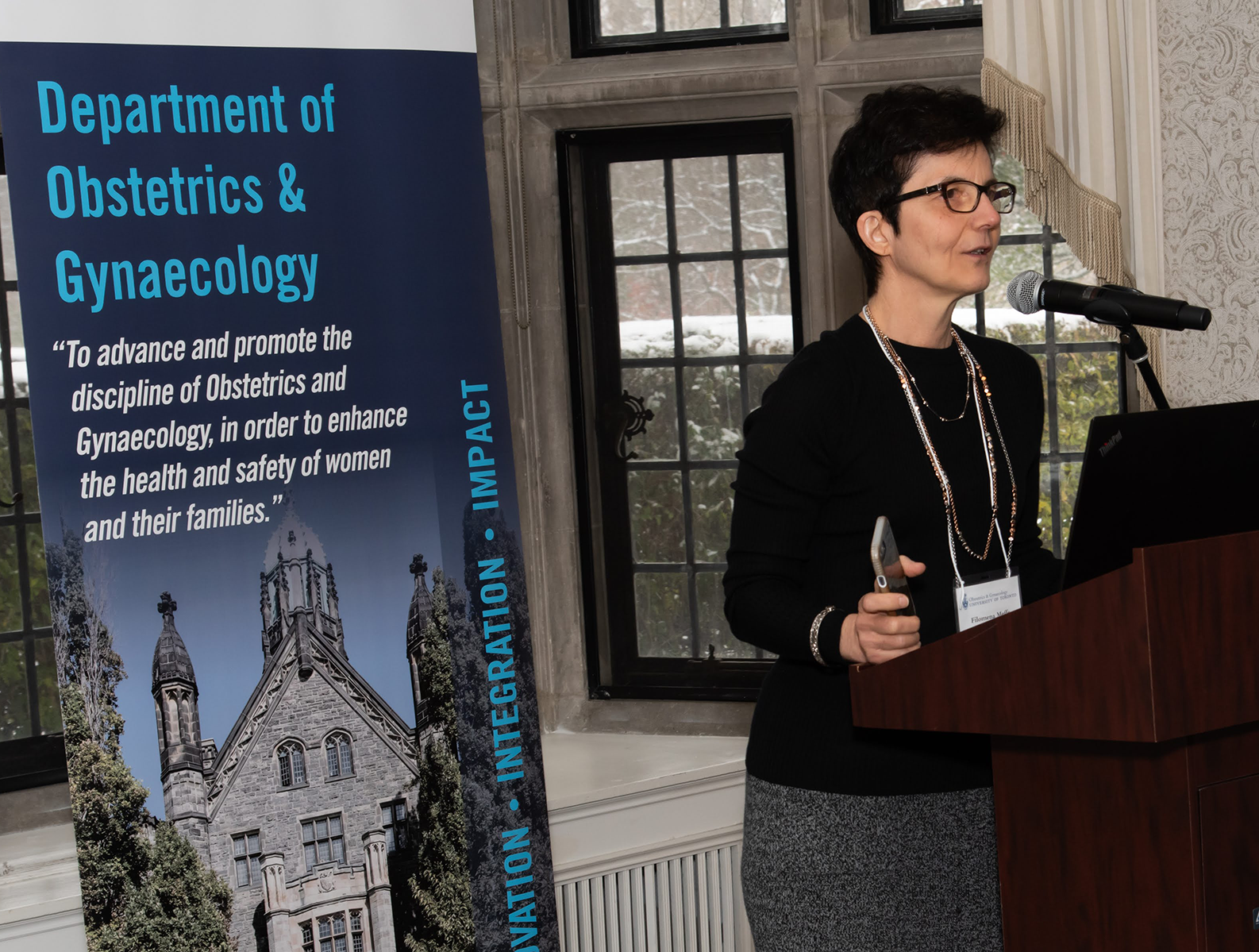 On a snowy November 11th, the Department of Obstetrics and Gynaecology hosted the annual Faculty Professional Development Day. This year's theme was "Assessment in Competency-Based Medical Education: Cautions, Considerations and Next Steps". The half-day event explored a number of topics relevant to faculty academic roles and career development with particular emphasis on competency-based medical education.
The event began with our plenary speaker Dr. Lynfa Stroud, Associate Professor with the Department of Internal Medicine, who presented "Pitfalls & Pendulums in the Assessments of Learners and Faculty". This session was met with great enthusiasm from our faculty who described it as informative, evidence-based and practical.
After our plenary session and a light lunch, faculty continued on to our other workshops, including:
"Coaching and Feedback in CBME/CBD: Let's make it practical and meaningful" presented by Dr. Janet Bodley, Associate Professor with UofT ObGyn
"Feedback: A Give and Take Relationship" presented by Dr. Dini Hui, Assistant Professor with UofT ObGyn
"The QuIPS Pathway to Promotion" presented by Drs. Jon Barrett, Professor, and John Kingdom, Chair of UofT ObGyn
"Competency-Based Medical Education is Here! What do we do now?" presented by Dr. Michèle Farrugia, Assistant Professor with UofT ObGyn
These workshops were described by attendees as comprehensive, helpful and unbiased presentations that aided faculty members in making practical changes to their professional and educational work.
After two sessions of workshops, faculty were invited to a celebratory evening full of awards and networking opportunities. 
For the first time, the new John R. McArthur Distinguished Scientist Award was presented in honour of Dr. John McArthur who, through his career in Gynaecologic Oncology at Toronto General Hospital in the 1940s and 1950s, introduced radiotherapy for cervical cancer. Chair of the Department of ObGyn Dr. John Kingdom described it as an award that had been created to "formally recognize a faculty member who has contributed a lifetime of service to our discipline and is someone who has an undisputed international reputation for their contributions, and a legacy of former trainees continuing in their own independent successful careers." The award was presented to Dr. Stephen Lye, an icon of research in the prevention of preterm birth and reproductive sciences.
Further thanks were given to the Director of Faculty Professional Development, Dr. Filomena Meffe, and the Department's administrative staff for their tireless work in ensuring the success of the event. Dr. Meffe will now be stepping down as FPD Director, as the Department welcomes Dr. Suzanne Wong to the position in the new year.
The Department was pleased to present the following awards:
Award
Winner(s)
Undergraduate Teaching Awards

Dr. Koo Chun - Etobicoke General Hospital
Dr. Paul Davies - St. Joseph's Health Centre
Dr. Helena Frecker - Michael Garron Hospital
Dr. Daniel Kreichman - North York General Hospital
Dr. Nir Melamed - Sunnybrook Health Sciences Centre
Dr. Kiran Sahi - Brampton Civic Hospital
Dr. Peter Scheufler - Mississauga Hospital
Dr. Amanda Selk - Mount Sinai Hospital
Dr. Mara Sobel - Mount Sinai Hospital
Dr. Carol Wade - Credit Valley Hospital
Dr. Mark Yudin - St. Michael's Hospital

Master in Teaching - 2018/2019
Dr. Mark Yudin
Chair's Award in Excellence in Undergraduate Teaching
Dr. Karthika Devarajan
Chair's Award in Excellence in Integrated Undergraduate Teaching
Dr. Brian Liu
Chair's Award in Excellence in Postgraduate Teaching
Dr. Colleen McDermott
Chair's Award in Excellence in Integrated Postgraduate Teaching
Dr. Kerry Myckan
Chair's Award in Excellence in Postgraduate Program Development and Innovation
Dr. Claire Jones
Chair's Award in Outstanding Research Potential
Dr. Rohan D'Souza
Chair's Award in Sustained Research Excellence
Dr. Lilian Gien
Chair's Award in Excellence in Research Facilitation
Dr. Julia Kfouri
Chair's Award in Excellence in Continuing Medical Education Teaching

Drs. Nimrah Abbasi, Johannes Keunen and Tim Van Mieghem

Chair's Award in Excellence in Continuing Medical Education Course Coordination
Dr. Sari Kives
SOGC Carl Nimrod Award
Dr. Ally Murji
Administration Team Award
Jeannette Moniz
______________________________________
Don't want to miss a post? Follow us on social media for more news!
FACEBOOK | INSTAGRAM | TWITTER
If you would like to be a guest blogger, please contact us at obgyn@utoronto.ca.