Dr. Carmen McCaffrey and Dr. Liz Miazga win Angel's Den competition for endometriosis app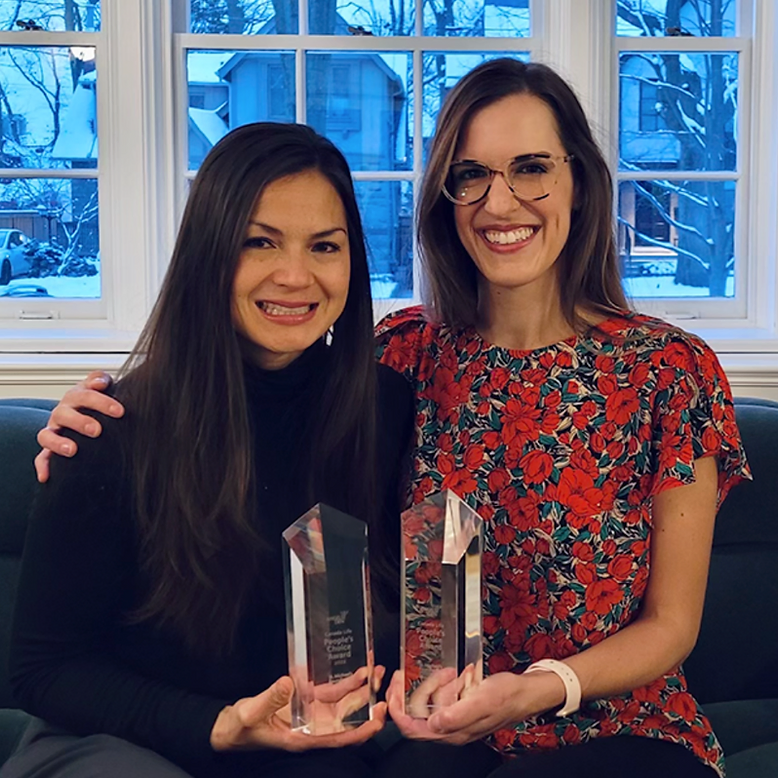 Two years ago, Dr. Carmen McCaffrey and Dr. Elizabeth Miazga were in the earliest stages of collaborating on a new project — a free app with treatments to manage endometriosis pain — when they heard about Angel's Den, the St. Michael's Foundation's annual medical research competition where teams of researchers pitch their projects for a chance at being awarded up to $250,000 in funding.
At the time, it might have seemed an unrealistic dream. After all, Dr. McCaffrey and Dr. Miazga — both assistant professors in the Department of Obstetrics and Gynaecology — were just in the fledgling stages of their project, and no team working in obstetrics and gynaecology had ever qualified for the finals of Angel's Den, let alone won the competition.
But somehow, Dr. McCaffrey and Dr. Miazga both had a good feeling about the competition. No matter the odds, they had faith that their idea to compete in Angel's Den had wings.
"When we heard about Angels' Den, it felt like something we manifested," Dr. McCaffrey recalled. "Liz was a brand-new fellow, I was maybe six months into being staff. But we were brainstorming and we said: 'We should go on Angel's Den!'
"It really was such a far-off dream at the time."
After two years of hard work refining both their project and their pitch, that far-off dream recently became reality, when Dr. McCaffrey and Dr. Miazga won the Canada Life People's Choice Award for MyEndo: The App that Eases Endometriosis.
Needless to say, it was a surreal feeling.
"It's so funny to think back now to when we first came up with this idea. At the time, I was a bright-eyed staff, and Liz was a bright-eyed fellow. Now, here we are — we did it. It's amazing," Dr. McCaffrey said.
"I don't even know to describe the feeling. All this work we had put in — it was incredible."
The initial idea for the MyEndo app was rooted in the pandemic, when access to a variety of medical services was severely limited. With an innovation grant from St. Michael's Hospital, Dr. McCaffrey, Dr. Miazga, and Ob-Gyn resident Dr. Hava Starkman worked with social worker Nicole Schroeder to create a course based on providing mindfulness-based therapy to treat endometriosis pain.
The project was a success, which left Dr. McCaffrey and Dr. Miazga looking for a way to open the treatment up to even more people suffering from endometriosis pain. That led to the creation of the basic initial incarnation of the app.
"Really, this was all triggered by COVID," Dr. McCaffrey recalled. "We actually had a bit of extra time on our hands given that all our ORs were cancelled and we were so restricted with the number of patients we were able to bring in.
"We almost felt helpless, because we weren't able to offer our patients anything to help them. Patients couldn't come into the office, so we were trying to provide assessments for a chronic pain condition that often needs an exam and a long counselling session over video and the phone. We would recommend all these treatments, and yet physiotherapy providers were all closed. It was frustrating for us."
While the conditions imposed by COVID-19 might have provided the initial inspiration for the app, Dr. Miazga and Dr. McCaffrey quickly saw how the accessibility of MyEndo could make it a valuable resource beyond the pandemic.
For people who weren't able to seek treatment for endometriosis pain for any number of reasons — for instance, a lack of insurance coverage, geographic barriers, or the long waitlists to see an Ob-Gyn who specializes in the area — the app could provide some resources and relief.
"One of the important things about the app is that it's free for everyone," Dr. Miazga said. "There are a lot of recommended, evidence-based treatments for endometriosis that could improve the quality of life for patients but they aren't covered by provincial healthcare plans — like pelvic-floor physiotherapy or mindfulness treatment.
"It's very frustrating as a physician to have the knowledge of how to help someone manage their pain, but all the treatments you recommend are unaffordable or inaccessible for that patient. With this app, we are able to provide evidence-based treatment for endometriosis and pelvic pain that are all free."
After building the initial pilot version of MyEndo, Dr. McCaffrey and Dr. Miazga had an abundance of ideas for how it could be expanded, improved, and rolled out to patients in more regions.
It was those ambitious plans for the app that led Dr. McCaffrey and Dr. Miazga to Angel's Den. Simply qualifying for the competition was no easy feat. The duo spent a year submitting proposals, presenting their pitch through multiple rounds of panel judging, and developing their presentation skills until they would be comfortable delivering their pitch to a large audience.
The day of the competition was a 14-hour marathon. Between navigating dress rehearsals, practising their pitch, and meeting the celebrity judges and other competitors, Dr. Miazga and Dr. McCaffrey did manage to find a moment to sit together, meditate, and try to calm their nerves.
"It was a special experience for us to go through all of this together," Dr. Miazga said. "Carmen and I have known each other for more than 10 years now. When I was a medical student, Carmen was my junior resident mentor. I've known her all the way through my medical school, through my matching residency, through fellowship, and even staff-hood.
"We have become quite close through all of that. To have this brainchild of an idea two years ago actually come to fruition through this competition with the support of Angel's Den, it really felt like a dream becoming reality. It was even more special to do it together with Carmen."
"We couldn't be happier," added Dr. McCaffrey. "We're so grateful to Canada Life and the St. Michael's Foundation for this award and this opportunity."
Now, they plan to use the funding to develop the MyEndo app further to allow for a research component, while also expanding its suite of resources and services to include exercise programs, nutrition counselling, recommendations on physiotherapy treatments, and more.
"This app will give us a platform to really provide patients the best and most comprehensive evidence-based care for endometriosis and pelvic pain in the comfort of their home," said Dr. McCaffrey.
"Many of our patients were part of our presentation at Angel's Den. To know now that we can use this funding to develop this app further and keep trying to improve care for our patients — it just feels incredible in so many ways."