Department hosts Kenyan residents for hands-on clinical work at Toronto hospitals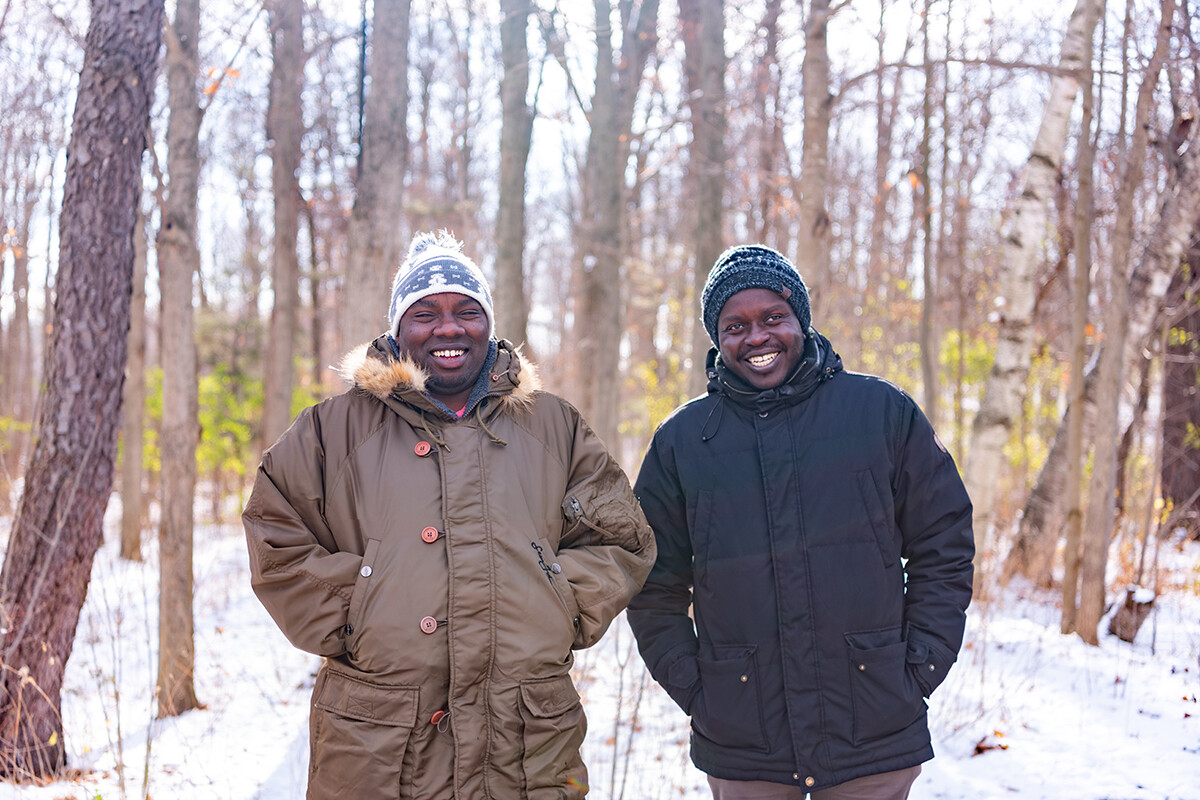 Photo by Joe George
The Department of Obstetrics and Gynaecology recently hosted two residents from Moi University School of Medicine in Eldoret, Kenya as they conducted hands-on clinical work at a number of different Toronto hospital sites, a component of the Department's 15-year bi-directional partnership with Moi through the AMPATH Consortium.
Dr. Collins Kiprotich Biwott and Dr. Franklin Munene Lautani travelled to Toronto to conduct clinical electives in Ob-Gyn subspecialties paediatric and adolescent medicine and maternal-fetal medicine, working at different hospital sites alongside Canadian residents, staff, and faculty.
Since 2007, the Department of Obstetrics and Gynaecology (along with our institutional partner, Indiana University) has been the lead North American member of the reproductive health component of AMPATH (Academic Model Providing Access to Healthcare), a multi-institutional academic collaboration that supports a bi-lateral exchange of faculty, residents, and medical students between Toronto and Eldoret.
These trained obstetricians and gynaecologists are issued temporary CPSO licences for full participation as residents during their time here, giving them the opportunity to gain experience in two Ob-Gyn subspecialties of their choice, with options including high-risk obstetrics, infertility, paediatric and adolescent gynaecology, and minimally invasive gynaecologic surgery. While in Toronto, Dr. Rachel Spitzer, our vice chair for global women's health and advocacy, serves as their clinical supervisor as they undertake their electives.
This exchange is made possible by generous philanthropic support, primarily via the Purpleville Foundation and the Dr. Alan Bocking Travel Fund. Logistics for accommodations, travel, orientation, and other administrative requirements were overseen by our global health program administrator, Joe George, who ensured the residents had a smooth and rewarding visit to Toronto.
Dr. Biwott and Dr. Lautani were the first Kenyan residents to complete a rotation in Toronto since the onset of the pandemic. The Department last hosted Kenyan residents Dr. Khadija Mbeneka Ali and Dr. Elizabeth Wawuda Righa in fall 2019.
What was your experience like in Toronto?
DR. BIWOTT: The experience has been very good. From a clinical and medical perspective, we've been able to see a wide range of conditions that we don't see back at home, either because of the different population or because of the diagnostic capacity that is available here.
There's also a different way of doing things here. It's been quite exciting and interesting to learn how things work here.
Outside of the medical practice, we've been able to experience quite a bit of Toronto. We've gotten a very good feel for the city. It's been a very wholesome experience.
What have been some of the highlights for you from a learning perspective?
DR. BIWOTT: I started with the medical diseases in pregnancy clinic for two weeks. In looking at patients who were pregnant but also had other underlying medical conditions, I was able to see a wide range of conditions that I would never have seen at home. I saw one patient with multiple sclerosis. I saw a patient with osteogenesis imperfecta. I saw a wide range of congenital heart diseases.
I would also say that the management I saw for patients in that clinic was textbook. It really was exactly the way we are instructed to manage patients in our textbooks. That was very exciting to see.
After that, I went to fetal medicine. That was also quite exciting because we have maybe one hospital in Kenya with a fetal medicine unit, but nowhere else in the country.
Finally, I rotated in at Sick Kids in paediatric and adolescent gynaecology. I'm learning a lot about the specialized care that can be offered to adolescents in terms of their reproductive health needs, adolescent pregnancy care, and family planning.
You mentioned that things are done a bit differently here. What are some of the differences you noticed?
DR. BIWOTT: One is the interaction I have seen between the patient and the doctor.
The physicians here really take a lot of time to build a rapport with the patient and to empathize with the patient.
Apart from offering medical care, doctors here also offer care from a human perspective. I feel that is something that we can easily take back home to our patients.
Have you had time to experience the area as tourists at all?
DR. BIWOTT: One of the achievements that Franklin and I pride ourselves on is that we got the hang of the public transport system here within our first week, and we were proudly able to arrive at any destination on our own.
One highlight was visiting Niagara Falls, which we did on our first weekend here. We've been able to tour the CN Tower. We're also going to the Ontario Science Centre.
And despite the cold weather, we were able to visit the Toronto Zoo this past weekend. We were advised against it because of the weather, but we insisted. While Africa is known for having very beautiful wildlife, there are certain animals here that we would really not be able to see on the other side.
Looking back, what do you think you'll take away from your experience here?
DR. BIWOTT: This experience has really opened my mind up to the world of opportunity that exists in obstetrics and gynaecology.
Before this trip, I wasn't as aware of the scope of what is available in Ob-Gyn. Seeing the kinds of things that are being done to improve patient care and improve care of the fetus, I've learned about services that are very much relevant and needed back home.
DR. LAUTANI: Although this was a short experience in terms of the number of days we were here, it has had a big impact that will be reflected in our future practice.
When we applied, we didn't know the opportunities or experience we would get from this. We've gained a lot. We want to go and take what we've seen here and try to put it into practice in the future.