Advice for the New Generation of Women in Medicine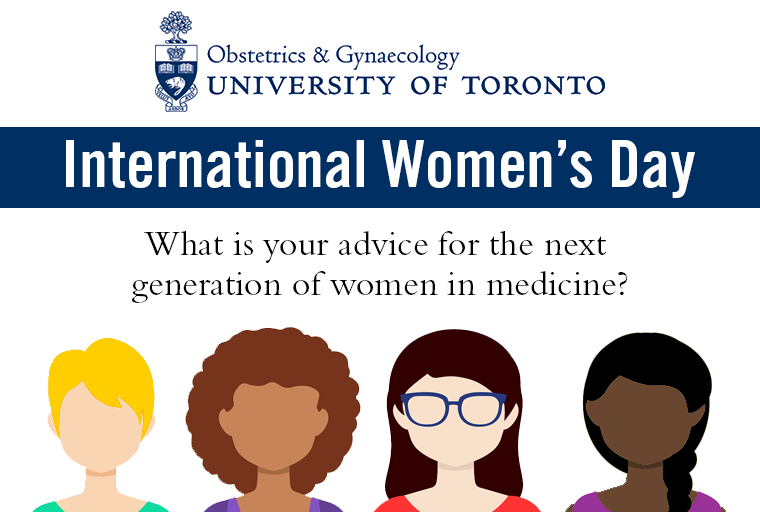 For this International Women's Day, we asked our faculty and trainees: what advice do you have for the next generation of women in medicine? Here are just some of their messages:
Hello beautiful young women of today!
FIRSTLY you have chosen a fabulous and rewarding career. At 60 plus and 35 plus years of medicine, I still love what I have done most of my adult life.
I recommend that you choose a specialty you are enamoured with.
Treat your patients the way you would care for your own family and would like to be cared for yourself.
Do not regard this as a part-time career, as it is not.
The education should not cease when you have the letters in front or behind your name. Do not be lazy. Look at yourself and, if you have this inclination, this is not the path for you.
A method of job sharing has to be created so that patients don't suffer while women are having a family. Consistency and excellence should be preserved.
Do not practice with fear of a litigious society, as you will deliver poor and inefficient care.
Try and enjoy the journey, even when the going gets tough, because others have it tougher.
The rewards of this profession are worth the sometimes tiring journey.
Lots of luck on this fabulous and worthwhile career choice!
- Dr. Monique Rose Rahmani, Lecturer with the Department of Obstetrics and Gynaecology at the University of Toronto
Believe in Yourself.
Turn challenges into opportunities.
Every small positive change that you make in a woman's life matters, as small changes lead to bigger transformation.
Self care and gratitude is crucial for self motivation and to prevent burnout.
Be kind to yourself.
Happy International Women's Day!
- Dr. Prema Vaidyanathan, Lecturer with the Department of Obstetrics and Gynaecology at the University of Toronto
Did you want to add your advice for the new generation of women in medicine?
_____________________________________________________________
Don't want to miss a post? Follow us on social media for more news!
FACEBOOK | INSTAGRAM | TWITTER
If you would like to be a guest blogger, please contact us at obgyn@utoronto.ca.