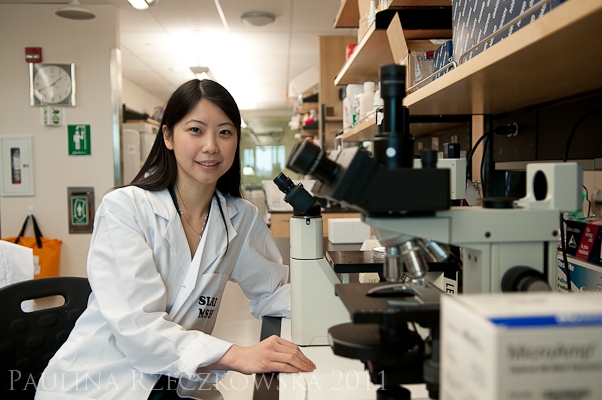 Dr. Crystal Chan is an Assistant Professor in the Department of Obstetrics and Gynaecology at the University of Toronto, and a Clinician Investigator at Mount Sinai Hospital. Below is her testimonial.
During my second year of residency in Obstetrics and Gynaecology, I became interested in the subspecialty of Reproductive Endocrinology and Infertility. In my clinical rotation, I realized there was a large knowledge gap in the field regarding factors involved in uterine receptivity. I wanted to study the mechanisms behind human uterine receptivity, and discover uterine factors that could predict successful embryo implantation. Before residency, I had done the typical undergraduate stint in basic science labs, but translational research was a brand new experience. This would be my first large prospective study involving biological samples from human volunteers. I was fortunate to find two research mentors, one a basic scientist and the other a clinician, both of whom helped with study design and encouraged me to apply for the Royal College Clinician Investigator Program.
I enrolled in the WHS in the middle of my third year of residency and completed a two-year Master of Science degree through the Institute of Medical Science. During that time, I was in the lab of my basic science mentor at the Lunenfeld-Tanenbaum Research Institute. The WHS afforded me the full graduate student experience, including graduate-level coursework, regular lab and committee meetings, research ethics board applications, and completion of a research project and thesis. With the support of the program and my mentors, I refined my skills in study design, molecular biology techniques, grant writing, and manuscript preparation. I presented at local, national and international conferences. I was able to commit to research with uninterrupted focus, something that would not have been possible within the confines of a typical residency program.
At some point during the WHS experience, a spark goes off. Despite the occasional setback from experiments that don't work or hypotheses that fall flat, the experience inspires a sense of confidence and a realization that one has the ability to ask a research question and figure out the answer. This realization is the most important outcome of the WHS, and all the abstracts, publications and awards in the world are secondary. I am now a Clinician Investigator at Mount Sinai Hospital and an Assistant Professor in the Department of Obstetrics and Gynaecology at the University of Toronto. I know I have many more years to learn and grow as a scientist, but the WHS was the key in starting me on the path to success.